Product Strategy Consulting Services Gurgaon
Product Strategy Consulting Services Gurgaon
Product Strategy Consulting Services Gurgaon. More goes into creating a product than merely designing it. When deciding what to produce and when, the process takes into account the product's positioning in relation to its competitors, the financial model for the product, and the message and marketing we employ. From strategic planning and portfolio management to agile, front-line execution, Zeabros works directly with you to build a top-notch product management capacity.
Building a product with a lot of strategies is called "product strategy." It indicates that a plan is put into action to produce an outcome. This works in accordance with the strategy and offers many advantages and that's what we do. Zeabros offer Product Strategy Consulting Services in Gurgaon, Delhi, Noida, Faridabad, Lucknow, Patna, and Jaipur.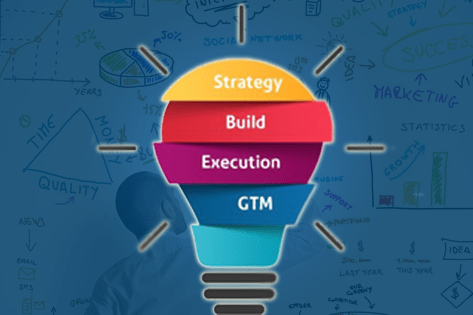 Product Strategy Meets Product Appeal:
You can use your design to outperform what is technologically possible if you know how to create a product that is both delightful and joyful to use. Furthermore, designing one is not the same as building one. The method considers the product's position regarding its competitors, its business model, and the messaging and marketing we employ to assist you in deciding what to produce and when. We have the best team who make the strategy and develop the product and also help to make your product according to the strategy process, which matters in the progress of the product.
How We Can Help:
At Zeabros, we'll help you expand your influence by assisting you in achieving business benchmarks today. And developing a digital product that will push the limits of your company in the future. By starting from scratch, we assist you in creating a solid framework for your product's future, reducing risk and maximizing effectiveness throughout its existence. We collaborate with aspirational leaders that want to shape the future rather than run from it. We accomplish great things as a team. We will help you by working on your project and making your good project great. We help by doing your project with bugs and variabilities and providing the best version of your project.
Consultants for Whole Product Strategy:
In addition to making good plans, product strategy entails testing your theories on actual customers. The entire plan must place the product within your budget. While also seeking the most effective means of achieving the business metrics. It will also entail expanding your knowledge of the market, industry, users, rivals, technology, and design. Understanding your domain, users, and distinctiveness is crucial to producing a digital product that is both new and competitive.
Synchronize Strategy with Spending Plans and Product Roadmaps:
A road map of the most necessary product characteristics is also created. Along with considerations for the target market, pricing, and competitors. We'll attack the problem methodically. Also, create a logical plan that covers all the areas and results in an exceptional product by integrating our team of digital strategists, designers, and developers.
Business & market insights
While making a Product Strategy there is a key point inside it that helps to grow your business and that is Business & Market Insights. In this, we will discuss the latest and data-based analysis, and explore the market needs which help to build strength. In this, we will discuss the all learning cycle of business to build and make it more optimize. By exploring the Business & Market you will be able to think about what competitors do to make more authentication. Zeabros will help you to do the Business & Market Insight tactics to make it more usable and more stable for the long term go.
Product vision
Product Vision is like a story to think about your Product's Future According to Prediction. By using Product Vision you will be able to think about your product which is beneficial and go long-term business. In this, we can elaborate on the idea and make it according to your need. And we are able to plan on functionalities that will come in the development process. And in this, we also take add on of the market trends to make it more reliable and more user friendly. We will customize it to according new Functionalities and new features and so on. 
Want to know more about Product Strategy?