Golang Development Service Gurgaon
Golang Development Service Gurgaon
Zeabros provides the best Golang Development Service Gurgaon. Delhi, NCR, Noida, Faridabad, Lucknow, Patna, and Jaipur.
Select the Google programming language for your application.
Need a strong backend solution to realize your game-changing app idea? Together, let's develop the next-generation product! with golang the newest backend development framework created by Google one of the biggest and Branded IT companies. It is simple to use and easy to understand and similar to C or Java.
Get Professional Golang Development Services that Are 100% Customizable:
Leading Golang development company Zeabros offers lightning-fast, secure, and highly specialized Golang development services to a wide range of industry verticals. Zeabros has years of experience building high-quality apps. Our talented and knowledgeable specialists can create a perfect web or mobile application using their understanding and knowledge of the Golang programming language and other development tools, which will resonate with your brand and assist you in scaling up your business.
Compatible and intuitive:
Go is a modern programming language that is ideally adapted to the needs of contemporary hardware. Applications driven by Go can run on a variety of platforms and several operating systems. Go binaries can effectively communicate with external resources like Linux system components or C libraries. Additionally, Golang is a very intuitive language that enables programmers to write clear and effective code, accelerating the development cycle and decreasing the time to market.
Integrating Golang:
Easily integrate with different front-end and back-end technologies, including Angular and React.js. The Golang specialists we work with can also help you integrate with cloud infrastructures like Azure, Amazon Web Services, and Google Cloud for greater scalability. Because Its exceptional capabilities for AI research and development have helped it contribute to the creation of some of the top web and mobile applications. To keep up with trends, we provide Golang development combined with AI programming.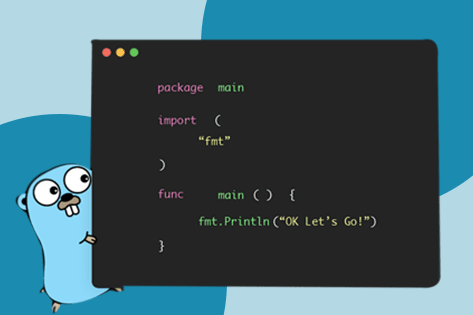 Support and upkeep:
So, We offer support and maintenance services for the Golang website and applications. Because It is essential to keep the web and app solutions up to par. Periodic updates on the most recent developments are required. Zeabros will work with you to create a code that is as simple to understand as possible. And saving you a lot of time. So, You can quickly and effectively manage your challenging web-based projects using Golang, and we can assist you in minimizing the risks related to bug-related problems.
Why Golang for You
This course will teach you how to program in Golang. This language is designed with ease of use, scalability and safety in mind. You'll be introduced to the fundamental concepts of programming such as variables, functions and looping. So, this is one of the newest and most usable programming language.
Golang is a concurrent, open-source programming language that focuses on its concurrency features. It provides multiple ways of doing the same thing, making it easier to code and reducing debugging time. The small number of packages in the standard library makes it easy for programmers to steer clear of complex dependencies and large downloads. There are also plenty of resources out there to help you learn how to use the language.
Golang is a modern programming language that has been around since 2012, it's super fast, performs better than many other languages, has an awesome community and a great future ahead of it.
Want to know more about Golang?